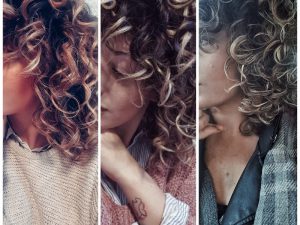 Avete dei capelli ricci indisciplinati, crespi e difficili da gestire? Vi state chiedendo come rendere i vostri cavatappi naturali più morbidi, elastici senza utilizzare il calore ? Io vi racconto la mia esperienza.
Avevo dei capelli davvero danneggiati, secchi, sfibrati, non me ne prendevo affatto cura. Non utilizzavo i prodotti giusti, ero convinta bastasse comprare shampoo e balsamo per capelli ricci, non leggevo le etichette e soprattutto non utilizzavo quasi mai le maschere idratanti. Non seguivo un metodo di applicazione dei prodotti, facevo tutto molto a caso, se una volta per magia, mi uscivano meglio del solito, cercavo invano, di replicare il risultato la volta successiva.
Ho avuto tantissime crisi di isterismo davanti allo specchio, spesso, una volta asciugati i capelli, dicevo "mio Dio, che schifo" spazzolavo e piastravo, oppure ribagnavo e asciugavo con phoon e poi piastra. Non nascondo che nell'ultimo periodo per cercare di riavere i miei ricci, ho fatto un uso spropositato dell'arriccia capelli, che non ha fatto altro che devastare del tutto i miei capelli.
Quando mi sono stancata di utilizzare tutti questi arnesi, ho iniziato le mie ricerche online, cercando di capire come fare, perché era palese e sapevo perfettamente dove stavo sbagliando, ma non riuscivo a trovare un modo alternativo e veloce di riavere i miei ricci. Mi sono imbattuta in un paio di video, che mostravano un nuovo modo di lavare i capelli, ovvero a testa in giù, non nella doccia, lasciandoli completamente zuppi di acqua per effettuare lo styling. Così ho iniziato a provare quella tecnica. Disastro! I capelli mi vennero bene davvero soltanto una volta, perché l'acqua che avevo lasciato sicuramente li aveva idratati, ma avevo sbagliato poi tutto il resto nuovamente. L'acqua è una fonte importante di idratazione, ma da sola ovviamente non basta. Così ho continuato le mie ricerche finché non mi sono imbattuta nel libro "The Curly Girl Method".
Ci ho messo un pò a trovare il nocciolo della questione, perché è un libro che trovate interamente in lingua inglese, ma quando ho capito come fare SUBITO il mio cambiamento sono passata solo al primo lavaggio ad avere un risultato più che eccellente.
In questo articolo voglio svelarvi i primi passaggi che dovete fare, per ottenere da subito, un buon risultato, che non sarà quello definitivo. Come vi dico sempre, ci vuole del tempo, in base allo stato dei capelli, ma questo  sarà il vostro punto di partenza, la vostra motivazione a fare sempre di più e sempre meglio.
Togliete dalla vostra testa tutte le sostanze chimiche che avete introdotto precedentemente; questo che significa? Fate l'ultimo shampoo della vostra vita con quello shampoo che utilizzavate senza sosta dopodiché ditegli addio. Tutta quella roba bianca e pruriginosa nei capelli ricci non è sempre la forfora. L'accumulo di prodotto si maschera comunemente come forfora. In realtà è un residuo di tutte quelle sostanze chimiche aggressive che state usando.  In quella occasione ho utilizzato lo shampoo di Gliss, poi ho messo in posa un balsamo naturale sulle lunghezze e ho pettinato i capelli delicatamente, ho sciacquato e tenuto in posa per 30 minuti una maschera fatta da me con yogurt, miele e olio extravergine di oliva, ho sciacquato con acqua fredda.
Rendete le maschere idratanti le vostre migliori amiche; se i vostri capelli somigliano alle mie prime foto, avete bisogno di idratare e "inumidire" i vostri capelli il prima possibile. Per fare questo il prima possibile, utilizzate i prodotti che trovate in cucina e create subito la vostra maschera salva ricci. Se non avete il tempo o non siete sicure su quali prodotti usare, acquistate delle buone maschere naturali, prive di siliconi e Parabeni. Io, come vi ho detto, ho utilizzato i prodotti fai da me, perché non ero ancora sicura su quali prodotti acquistare, ho utilizzato di tutto: latte di cocco, latte di mandorla, burro di karitè, olio di cocco, miele, uova, olio extravergine di oliva, the verde, yogurt. (non mescolati tutti insieme ovviamente 😉 ) Adesso lo faccio un pò meno, sia perché la voglia e il tempo scarseggiano, sia perché sono davvero curiosa di provare prodotti nuovi.
Lavate i vostri capelli ricci nel modo giusto; sorprendete come un semplice lavaggio possa essere sbagliato vero? purtroppo capita per chi ha i capelli come i nostri. Questo forse era l'errore più grande che commettevo (oltre all'utilizzo dei prodotti sbagliati) Io lavavo i capelli nella doccia, insieme al resto del corpo, non facevo molto caso a quello che mettevo. Utilizzavo sempre acqua molto calda, tenevo poco il balsamo in posa, e lo risciacquavo completamente. Se i vostri capelli sono davvero secchi e sembrano sempre super asciutti e "polverosi", il metodo ideale è quello del "Squish to Condish" , dopo aver effettuato lo shampoo. Come si fa: a testa in giù passate il balsamo generosamente in tutti i capelli, passando bene le dita tra essi, e utilizzando anche il pray hand, una volta fatto questo, districate con un pettine qualora ce ne sia bisogno, e accendete l'acqua, prendetene un pò nelle mani e portate le mani verso i capelli e fate il gesto dello scrunch, continuate così finche non avrete sciacquato via buona parte del balsamo (ma non tutto!) Di sotto vi riporto il video di una delle mie blogger preferite, Marisa, anche se in inglese, si capisce bene quello che dovete fare.
Sigillate i vostri ricci; affinché i vostri ricci siano perfetti anche per altri giorni, dovete applicare la crema, il leave in e il gel generosamente nel giorno del lavaggio! Ricordatevi che i prodotti naturali non danneggiano il vostro capello, e stanno lì per fare il loro lavoro per più giorni consecutivi (o per lo meno, questo è l'obiettivo). Se avete i capelli con un'alta porosità , utilizzate il metodo LOC, tutti i giorni della settimana, sia il giorno del lavaggio che non. Il metodo LOC significa che dovete applicare i prodotti in un determinato rodine: Leave in – olio – Crema ricci e Gel finale; mentre invece se avete i capelli con una bassa porosità, utilizzate il metodo LOC soltanto il giorno del lavaggio. Per i giorni di refresh, basterà un pò di crema con un gel, e i vostri ricci saranno perfettamente morbidi e definiti.
Vi è piaciuto questo articolo? Iscrivetevi alla mia pagina Instagram per non perdervi proprio niente, le mie routine, i refresh e i progressi dei miei capelli!